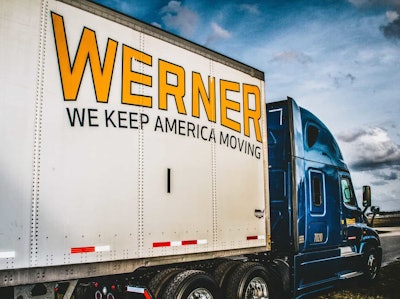 Werner Enterprises, a major carrier based in Omaha, Nebraska, today announced its plans to honor its professional drivers as part of National Truck Driver Appreciation Week.
While National Driver Appreciation Week does not officially begin until Sunday, Sept. 11, Werner kicks off celebrations today at its terminals in Joliet, Illinois, and Springfield, Ohio, and Saturday, Sept. 10, in Lehigh Valley, Pennsylvania.
Celebrations will be held at other select terminals and dedicated sites across Werner's network next week. On Friday, Sept. 16, a live remote broadcast of Road Dog Trucking News will air from 1-3 p.m. CDT on SiriusXM channel 146.
"The appreciation and respect we have for our professional drivers at Werner runs deep," said Werner's Chairman, President and CEO Derek Leathers. "As the heart of our company, we are excited to not only express our gratitude for their hard work during National Truck Driver Appreciation Week, but to recognize the important role professional drivers play in our nation's economy."
Werner has over 10,000 drivers traveling 3 million miles and more each business day.