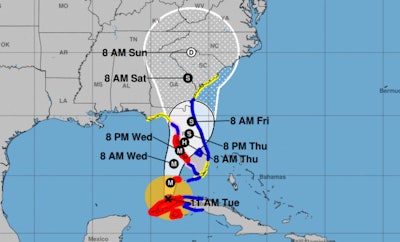 National Weather Service
With Hurricane Ian headed towards Florida, hours of service regulations have been eased for some truckers.
As part of a state of emergency declaration made last weekend by Gov. Ron DeSantis, hours of service regulations are suspended for motor carriers entering Florida to provide emergency services or supplies. The waiver also applies to truckers who transport emergency equipment, supplies, or personnel, or to transport FEMA mobile homes or office-style mobile homes into or from Florida.
The Florida Department of Transportation also has waived weight and size requirements for any vehicles transporting fuel, emergency equipment, services, supplies, and agricultural commodities and citrus.
Truckers should expect crowded highways as residents, many under mandatory evacuation notices, flee their homes, especially along Florida's west coast.
The National Weather Service forecasts Hurricane Ian will pass west of the Florida Keys today as a category 3 storm. It is expected to make landfall Wednesday and into Wednesday night. According to the weather service, "Ian is forecast to approach the west coast of Florida as an extremely dangerous major hurricane."
Partnership provides truckers with alerts about vehicles on the highway
Drivewyze, a provider of connected truck services and operator of the largest public-private weigh station bypass network in North America, and HAAS Alert, a provider of automotive connected safety with Safety Cloud, have announced a new collaboration on Connected Truck safety solutions.
The new partnership will integrate HAAS Alert's Safety Cloud into the Drivewyze Connected Truck platform to deliver digital alerts about vehicles and equipment on the roadway to commercial drivers through the Drivewyze in-cab application.
"Maintenance, emergency response, and work zone events can often place vehicles and equipment in situations that can be hazardous to both workers and drivers," said Brian Heath, CEO of Drivewyze. "This collaboration will give commercial truck drivers added reaction time to slow down and move over when approaching roadway operations -- helping to avoid potential crashes."
Safety Cloud integrates hazard data directly from roadway vehicles, equipment, and trusted partners and will share this information with Drivewyze in real time. Drivewyze will notify approaching truck drivers in advance through visual/audible in-cab alerts.
Driver training provider offers 'Tanker Injury Prevention' course
CarriersEdge, a provider of online driver training for the trucking industry, has introduced a course to help drivers avoid injuries while performing tasks related to operating a tanker.
Falls from climbing a tanker, using the catwalk, or tripping over a hose are common causes of injuries for tanker drivers, and can result in sprains, fractures, or head injuries. The "Tanker Injury Prevention" course focuses on risks associated with getting in and out of the cab, climbing on and off the tanker, securing the cargo, and handling hoses while loading and unloading cargo.
The interactive module outlines the different aspects of the driver's tanker-related duties, including specific examples and detailed steps.
After completing the "Tanker Injury Prevention" course, drivers will be able to:
List the main causes of injuries when working around a tanker
List the personal protective equipment (PPE) needed when operating a tanker
Explain how to use three points of contact around the vehicle
Describe how to avoid injuries when working with hoses
Describe common fall protection methods
"Tanker Injury Prevention" is available to customers now at no extra charge, as part of the CarriersEdge subscription service.
ICYMI
FMCSA seeks comments on possibility of requiring electronic IDs on trucks
MDOT says part of I-94 in Detroit will close for 5 days starting Sept. 29
Do you plan to change jobs or start looking for a job before the end of the year?