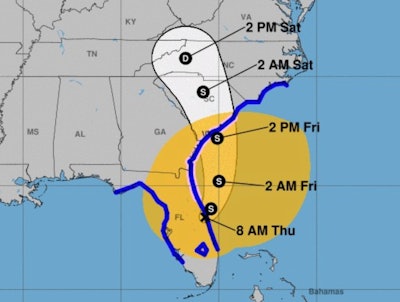 In response to now-tropical storm Ian, the Federal Motor Carrier Safety Administration Wednesday issued a regional emergency declaration for commercial vehicles directly assisting in transporting goods and disaster relief services in seven Southeastern states.
The emergency declaration says commercial motor carriers and drivers providing direct assistance in the seven states are granted temporary relief from Code of Federal Regulations, Title 49, Section 395.3 for maximum driving time for property-carrying vehicles.
The emergency declaration will remain in effect until the end of the emergency or until 11:59 p.m. ET, Oct. 28.
The states covered by the regional emergency declaration are:
Florida
Alabama
Georgia
Kentucky
Mississippi
North Carolina
South Carolina
The emergency declaration applies to commercial motor vehicles providing direct assistance for emergency relief in transporting supplies, goods, equipment, and fuel into the seven states.
The FMCSA's declaration says, "Direct assistance means transportation and other relief services provided by a motor carrier or its driver(s) incident to the immediate restoration of essential supplies or essential services. Direct assistance does not include transportation related to long-term rehabilitation of damaged physical infrastructure or routine commercial deliveries, including mixed loads with a nominal quantity of qualifying emergency relief added to obtain the benefits of this emergency declaration, after the initial threat to life and property has passed."
In the National Hurricane Center's 11 a.m. update, the system's center was located off of Brevard County about 40 miles north-northeast of Cape Canaveral and 285 miles south of Charleston, South Carolina moving north-northeast at 9 mph with 70 mph sustained winds and higher gusts. The system had dropped in strength to 65 mph at 5 a.m. but is now expected to regain hurricane status before threatening landfall farther up the U.S. East Coast on Friday.
The weather service said the center of Ian is expected to move off the east-central coast of Florida and then approach the coast of South Carolina Friday. The center will move farther inland across the Carolinas Friday night and Saturday.
Ian has dumped record amounts of rain across much of Florida and has left some 2.6 million people withouit electrical power.