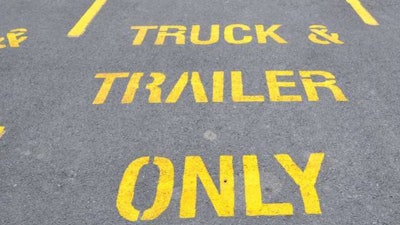 The prospect of federal funds for improving truck parking got a little brighter Thursday, Dec. 1, when two western senators introduced a companion bill to one in the House that would allocate $755 million over four years for the expansion of truck parking across the nation.
Senators Mark Kelly (D-Arizona) and Cynthia Lummis (R-Wyoming) submitted the bill, which is similar to the Truck Parking Safety Improvement Act introduced in the House in July. That bill -- introduced by Rep. Mike Bost (R-Illinois) and Rep. Angie Craig (D-Minnesota) -- was passed by the House Transportation and Infrastructure Committee and awaits a vote by the full House.
There are several differences between the Senate and House versions of the parking bill. The Senate version allows for the construction of truck parking on private truck stops and travel plazas, as long as that construction is done with a public sector partner. The bill introduced in the senate Thursday also allows for fees to be charged for the use of auxiliary power units, electric hookups, or heating and air conditioning. And, no more than 15% of a grant's funds can be used for the maintenance of rest areas. :
Those differences will have to be ironed out by the two chambers.
The American Trucking Associations praised Senators Kelly and Lummis and their legislation.
"A chronic, nationwide shortage of commercial truck parking continues to strain our supply chain and jeopardize highway safety for all motorists. This carefully crafted legislation provides needed investments to remedy the problem while incentivizing public-private partnerships to further expand truck parking capacity," said ATA President and CEO Chris Spear. in a statement issued by the association."We thank Senators Lummis and Kelly for their strong leadership. Congress must ensure our nation's truck drivers have safe and accessible places to park and rest so they can keep delivering for the American people,"
The Owner-Operator Independent Drivers Association also weighed in on the legislation.
"OOIDA and the 150,000 small business truckers we represent applaud the leadership of Senator Lummis and Senator Kelly in addressing the truck parking crisis that has been building for decades," said Todd Spencer, president of the Owner-Operator Independent Drivers Association. "70% of American freight is transported by truck, yet there is only one parking spot for every 11 trucks on the road. When truck drivers don't have a designated place to park, they end up parking on the side of the road, near exit ramps, or elsewhere. This isn't safe for the driver and it's not safe for others on the road. Senator Lummis and Senator Kelly have heard from small business truckers and are taking meaningful steps to increase truck parking capacity."
Truck parking has been a longstanding problem for the industry. In fact, in this year's survey of critical issues conducted by the American Transportation Research Institute drivers ranked the lack of parking as the top issue. Carriers responding to the survey ranked parking 10th.
In October, Transportation Secretary Pete Buttigieg announced a $15 million grant to add about 120 new truck parking spaces along the Interstate 4 corridor between Tampa and Orlando, Florida, and a $22.6 million award to add about 125 spaces along Interstate 40, east of Nashville, Tennessee. At about the same time, the Federal Motor Carrier Safety Administration awarded $1.4 million in High Priority Innovative Technology Deployment grants to Montana and Kentucky to improve truck parking.