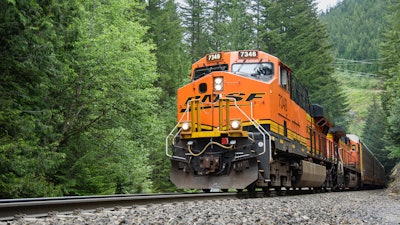 The Senate today approved a measure that avoids a strike by the nation's freight railroad workers. However, it did not include a provision for paid sick time that was a major issue for the unions.
Senators passed the bill by an 80-15 vote. The measure forces unions to accept a tentative agreement reached in September between railroad managers and their workers and make an imminent strike illegal. They rejected a measure to offer paid sick leave, 52-43. Both measures required 60 votes to clear the Senate.
Both bills cleared the House on Wednesday.
A strike deadline was set for Dec. 9, and railroads would have had to have started making provisions for freight handling by Saturday, Dec. 3.
The American Trucking Associations today praised the action by Congress.
"The trucking industry thanks Congress for acting swiftly to prevent what could have been a disastrous rail strike," said ATA President and CEO Chris Spear in a prepared statement. "Trains move critical goods like hazardous materials and fuel – including diesel which is already in short supply in numerous parts of the country. Any disruption to these critical supply chains would have been catastrophic for the economy and our industry.
"Hospitals, businesses and ordinary Americans depend on freight rail and trucking for daily necessities, and the trucking industry has neither the equipment nor the manpower to replace a single day of lost freight rail service. Truck transportation and railroads are much more complements than substitutes – there is no way the trucking industry can replace all the rail freight. We appreciate Congress stepping up and ensuring that the nation's wheels – be they steel or rubber – keep moving."
The railroad workers' contract applies to 115,000 workers represented by 12 unions.
The tentative contract approved in September granted workers a 24% compounded wage increase over five years and annual $1,000 lump sum payments. However, there were no paid short-term sick rays in that contract; the unions had asked for 15.
Eight of the 12 unions approved that tentative deal.