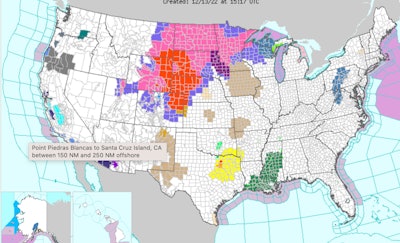 National Weather Service
A major winter storm is creating hazardous driving conditions across much of the Central U.S. and is expected to deliver severe weather conditions across the South and eventually the East by week's end.
Blizzard warnings are posted in parts of six states, from northeast Colorado and far northwest Kansas into western Nebraska, eastern Wyoming, western South Dakota and southeast Montana. Weather conditions have already closed many roads in northeast Colorado and western Nebraska as of this morning. Winds as high as 60 mph are expected in some areas.
"A powerful winter storm is bringing widespread impacts to the Central and Southern U.S. today into Thursday; impacts will reach the East Coast on Thursday," the National Weather Service said today. "Heavy snow, blizzard conditions, strong winds, and ice to the northern Plains and Upper Midwest. Severe thunderstorms, including strong tornadoes, and excessive rainfall, which may lead to flooding from east Texas to the Florida Panhandle."
The weather service said the storm system will continue to produce numerous, widespread weather hazards from the Rockies to the East Coast. Both flash flooding and severe weather will be a risk from the Lower Mississippi Valley into the Southeast in the warm sector of the system, according to the NWS.
There is also what the weather service said is "an Enhanced Risk" of severe weather along the central Gulf Coast as storms will continue to have the potential to produce severe hail, winds, and tornadoes, including strong tornadoes.
Snow accumulations through Wednesday morning will range between 10 and 18 inches, primarily in the Northern High Plains. The highest snow totals are currently forecast for western South Dakota, eastern Wyoming, and northwestern Nebraska, where upwards of 18-24+ inches will be possible, according to the weather service. Gusty winds upwards of 40-50 mph will be found east of the Rockies leading to widespread blizzard conditions and significant travel impacts across the High Plains.
Farther east, accumulating sleet and ice are also expected for portions of the eastern Dakotas into the Upper Midwest. The current risk for the greatest ice accumulation is for northeastern South Dakota, southwestern Minnesota, and northwestern Iowa where Ice Storm Warnings remain in effect through Tuesday afternoon.
The weather service predicts wintry precipitation will begin to spread eastward over the Upper Great Lakes later today and Wednesday and into the Northeast late Wednesday as the storm system continues eastward. From 4 to 8 inches of snow is possible for much of the Northeast.
To check on road conditions and for travel advisories, call or visit one of these sites: