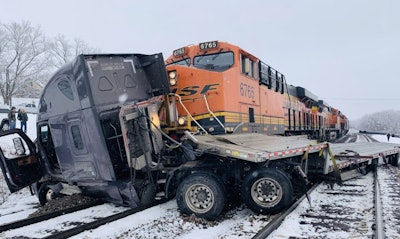 Scotland County Sheriff Bryan Whitney
Two truck drivers managed to avoid being injured when their trucks were struck by freight trains in separate collisions recently.
On Wednesday, Jan. 25, a tractor-trailer was struck by a train in Gorin, Missouri about 187 miles north of St. Louis.
The driver, Ehsanullah Folad, 24, of Sunrise, Florida, told KTVO-TV his flatbed trailer became hung up on the railroad tracks.
Folad was not in his truck when it was struck by a BNSF freight train struck it. No injuries were reported by the train's crew.
On Monday Jan. 23, the driver of a tractor-trailer escaped injury when a freight train struck the cab of his rig in York, Nebraska.
The York News-Times reports the truck, driven by Javin Knepp, 29, of Grand Island, slid through the crossing due to slick conditions on the roadway and collided with the eastbound train loaded with coal. Knapp was uninjured.
Knepp was hauling a small building on his trailer at the time of the collision.