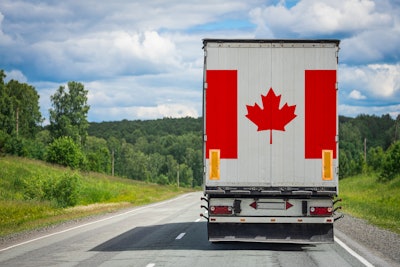 Canada's Minister of Transport, Omar Alghabra, on behalf of Employment, Workforce Development and Disability Inclusion Minister, Carla Qualtrough, recently announced that the government iis investing up to $46.3 million in Trucking Human Resources Canada under the Sectoral Workforce Solutions Program. The organization's Driving Economic Recovery project will provide training and wage subsidies to support the recruitment, training, and onboarding of up to 1,400 new truck drivers and 1,200 workers for other in-demand occupations within the trucking sector.
A statement from the government said this project will address inconsistencies in driver training by developing a national standard that will support transferable skills and bridge the gap between entry-level training and employability throughout Canada. Up to 2,600 participants — with an emphasis on women and other equity-deserving groups — will receive training, on-the-job work experience, and other supports, such as travel and living expenses, to prepare them for a career in the trucking sector.
"Truck drivers are essential to our economy and our supply chains," said Alghabra. "The Trucking HR Canada's Driving Economic Recovery project is an innovative solution that supports skills development and job employment readiness for truckers to fill good, middle-class jobs across the country. Our government's investment in this initiative demonstrates our continued commitment to strengthening our transportation supply chain, will allow us to continue to deliver affordable and timely goods to Canadians and will help build an economy that works for everyone."
The Canadian Trucking Alliance forecasts that the trucking industry will have a shortage of 55,000 workers at the end of 2023.
Small Wisconsin carrier loses 4 trucks, building in fire
Fire destroyed four trucks and a building that belong to a small, family-owned trucking company in central Wisconsin last weekend.
The blaze Sunday evening, Feb. 19, destroyed a building and the trucks owned by Hahn Transportation, which is based in Ripon, Wisconsin, about 20 miles southwest of Oshkosh.
David Hahn, who with his wife Debbie owns the business, said the fire did not damage any trailers. He said trailer leasing is a major part of the company, which has seven drivers and power units.
No injuries were reported as a result of the blaze.
FMCSA denies HOS exemption request by Michigan fleet
The Federal Motor Carrier Safety Administration has denied an hours-of-service exemption request by a small carrier based in western Michigan.
The agency denied the request of Flat Top Transport LLC, which is based in Holland, Michigan. The company sought a four-month exemption from 49 CFR Part 395 to provide immediate and emergency delivery of dry and bulk food-grade products to locations that supply stores and distribution centers nationwide.
In its denial, FMCSA wrote, ""Flat Top offered no basis on which FMCSA could conclude that granting an exemption from the HOS regulations would provide an equivalent level of safety."
Flat Top has some 10 drivers. They deliver food-grade flour, corn meal, and salts used to produce cereals, baked goods, canned goods and for meat processing, according to the company's request.
ICYMI
Two recalls apply to certain Freightliner and Western Star models
Part of Interstate 75 in southeast Michigan to be closed this weekend
Travel center expansion plans mean 1,500 more truck parking spots
Driver Poll: What's the best way for your employer to contact you?