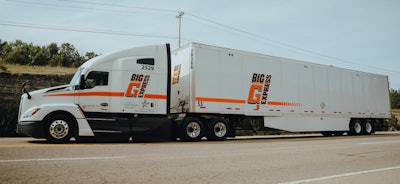 Big G Express
Big G Express earlier this week announced it has acquired RTR Transportation.
Located in Nashville, RTR is a family-owned full-service nationwide dry van truckload carrier including local cartage, warehousing, cross dock, trailer rework, and storage trailers.
Terms of the deal were not disclosed.
"This acquisition is a great move for our employee-owners," said Big G CEO, Greg Thompson, "RTR's asset-based operation with approximately 100 drivers allows us to gain market share with blue-chip customers in the automotive industry including an expansion of the regions and routes we currently service.
"We are excited to start this new chapter and welcome Jackson Norman, President of RTR, and their entire team to the Big G Express family."
"We ultimately chose Big G Express as the buyer because of the comfort level we instantly felt with their executive leadership," said Jackson Norman, president of RTR. "The Lord has blessed our family with a wonderful group of employees, and we wanted to assure that their futures were secure. Big G's employee stock ownership plan gave us that assurance."
Big G Express is an employee-owned, asset-based truckload carrier headquartered in Shelbyville, Tennessee. With 550+ tractors and over 1,800 trailers, they provide general commodity, irregular route, and dry van truckload services to nationwide customers. The Big G Express family of companies offers transportation solutions and services including logistics, warehousing, and flatbed services.