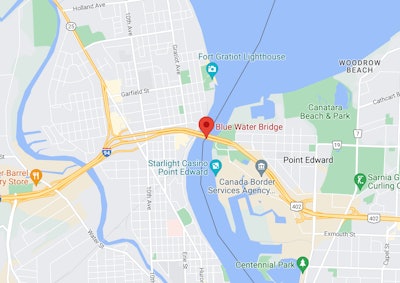 If your driving takes you between the U.S. and Canada on the Blue Water Bridge between Port Huron. Michigan and Point Edward, Ontario, Canada, be prepared for some major inconveniences this summer.
Beginning July 5 the westbound span of the bridge will be closed for maintenance.
To reduce impacts on traffic, both directions of traffic will be carried on the eastbound span, according to the Michigan Department of Transportation.. One lane will be reserved for westbound traffic entering the U.S. and two lanes will be available for eastbound traffic heading into Canada. While the eastbound span carries bi-directional traffic, the following impacts to traffic will be in place:
Dedicated lanes for commuter pass holders and buses cannot be accommodated
Wide loads will be restricted to less than 11 feet
The original Blue Water Bridge opened for traffic Oct. 10, 1938. The Second Blue Water Bridge, which opened in 1999, carries three lanes of eastbound traffic and the original Blue Water bridge carries three lanes of westbound traffic.