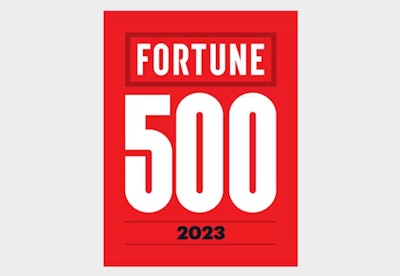 Several major trucking and logistics companies have been included on one of the lists of leading companies.
J.B. Hunt Transport Services Inc. has been named to the Fortune 500 for the eleventh consecutive year, moving up to the 280 spot.
"Our advancement on the Fortune 500 list and the company's overall growth represent the progress, hard work, and dedication of our employees, from the drivers that make our fleet one of the safest on the road to the teams creating long-term solutions that deliver increased value for our customers," said Shelley Simpson, president of J.B. Hunt. "They are the source of our success, and by taking care of them, we will continue helping customers reduce costs and improve efficiency."
The Fortune 500 ranks the 500 largest U.S. companies by total revenue for the respective fiscal year. According to the outlet, companies on this year's list represent approximately two-thirds of the U.S. GDP and generated $18 trillion in revenue. Fortune has published the annual list since 1955. J.B. Hunt's first appearance was in 2013 at #485.
Earlier this year, J.B. Hunt was named to Fortune's list of the World's Most Admired Companies for the 12th time. The company was also recognized by Newsweek as one of America's Greatest Workplaces for Women and Greatest Workplaces for Diversity.
Also, Landstar System, Inc. was again named to the Fortune 500 list of America's largest corporations by revenue. With revenue of approximately $7.4 billion in fiscal year 2022, another annual record for the company, Landstar landed at number 489 on the list.
"Landstar's financial performance in 2022, coming off a record-setting 2021 fiscal year, was truly outstanding, and helped earn this prestigious ranking," said Landstar President and CEO Jim Gattoni. "The company's 2022 achievements speak to the strength and resiliency of the Landstar network and the power of our unique agent and capacity network to execute."
Also on the Fortune 500 list and their ranking are:
UPS, 37
FedEx, 41
Tesla, 50
C.H. Robinson Worldwide, 160
GXO Logistics, 423
XPO, 478
Knight-Swift, 490
NC community college gets grants for CDL program
The Secretary of Commerce Gina Raimondo today announced the department's Economic Development Administration is awarding a $1.7 million grant to Guilford Technical Community College in Jamestown, North Carolina to construct a truck driver training facility on the college's East Greensboro campus.
This project will provide an asphalt training pad, parking lot and other infrastructure upgrades to expand Guilford Technical Community College's capacity to provide truck driver workforce training. This EDA investment will be matched with $2.6 million in state funds.
ICYMI
Here's what veteran truckers would tell next generation of truck drivers
Upstate NY RIST Transport acquires LTL carrier AMA Transportation
Driver Poll: Do fleet safety scores factor into your job decisions?