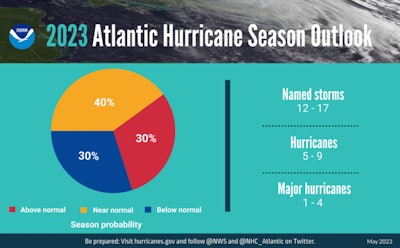 National Weather Service
Truckers hauling freight along the southern and eastern coasts should be prepared for what the National Weather Service is predicting will be a "near normal" Atlantic hurricane season, which got started June 1 and lasts until Nov. 30.
That means drivers could face disruptions caused by from 12 to 17 total named storms (winds of 39 mph or higher). Of those, forecasters say from five to nine could become hurricanes (winds of 74 mph or higher), including one to four major hurricanes (category 3, 4 or 5; with winds of 111 mph or higher). Weather service forecasts say they have 70% confidence in these ranges.
The upcoming Atlantic hurricane season is expected to be less active than recent years, due to competing factors — some that suppress storm development and some that fuel it — driving this year's overall forecast for a near-normal season.
After three hurricane seasons with La Nina present, scientists predict a high potential for El Nino to develop this summer, which can suppress Atlantic hurricane activity. El Nino's potential influence on storm development could be offset by favorable conditions local to the tropical Atlantic Basin.
"As we saw with Hurricane Ian, it only takes one hurricane to cause widespread devastation and upend lives. So regardless of the number of storms predicted this season, it is critical that everyone understand their risk and heed the warnings of state and local officials. Whether you live on the coast or further inland, hurricanes can cause serious impacts to everybody in their path," said Federal Emergency Management Agency Administrator Deanne Criswell. "Visit ready.gov or listo.gov for readiness resources, and get real-time emergency alerts by downloading the FEMA App."