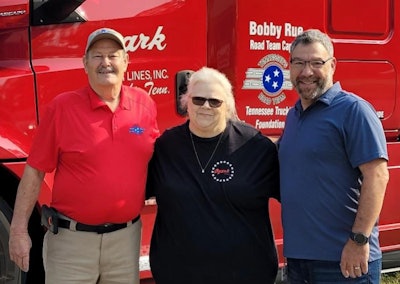 Ozark Motor Lines
An Ozark Motor Lines company driver was recently named the Tennessee Trucking Association's Driver of the Year.
Bobby Dale Rue, 62, of Jonesboro, Arkansas was recognized by the association for his distinguished record as a driver, and service to his community and the trucking industry.
Rue has driven more than 3 million miles and has never had a preventable accident, and never received a violation or citation. He drives over-the-road as a dedicated driver for FedEx, and his home terminal is Memphis.
In a statement about Rue's award, Ozark Motor Lines said he "Exhibits leadership and professionalism every day at work."
Before he was a trucker, Rue was a firefighter/EMT for 21 years.
He graduated from a commercial CDL school and started at Ozark Morot Lines as a student/trainee in October of 1999. He soon graduated to driving solo over the road and eventually became a trainer and Smith System instructor, and completed training with Truckers Against Trafficking.
Rue served as a Road Team Captain in 2020-2022 for the Tennessee Trucking Association.
When not driving Rue is active in his community and church.
He is a Boy Scout leader and served with the American Red Cross in disaster relief. Rue has been a first aid and CPR instructor for 40 years and served as a field instructor for the Arkansas State Fire Academy.
Rue is a Sunday school teacher and youth program leader in his church.
When not driving or serving his community, Rue enjoys studying American history, fishing, and searing with his metal detector.