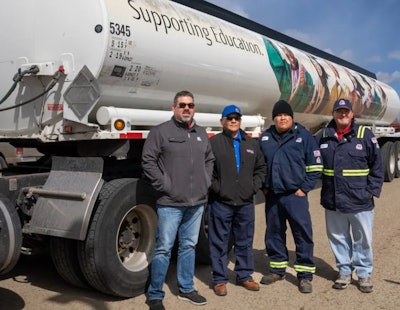 Marathon Petroleum
The commercial driver's license program at Navajo Technical University recently added the program's first tanker truck, which was donated by Marathon Petroleum's midstream segment, MPLX, from its existing fleet.
"This cab unit and liquid tank trailer will help the program build capacity and more effectively train students to drive in the energy industry," said Marathon ESG and Stakeholder Engagement Manager V.J. Smith. "The truck can immediately be put to use, so I'm grateful to Gathering and Processing's Transportation and Rail team within MPLX for making this happen."
Located in Crownpoint, New Mexico, NTU was the first university established on the Navajo Nation and is the largest tribal university in the U.S. The CDL program is a one-semester certificate program that prepares graduates for employment as professional over-the-road drivers and drivers for local companies or to establish their own trucking companies.
MPLX Transport Driver Jonathan Begay, a member of the Navajo Nation whose routes include the area where NTU is located, spoke during the truck donation ceremony.
"I'm proud to be part of a company that is committed to making our shared communities stronger by aiding programs that promote the education and advancement of the local workforce," Begay said.
Trucker indicted on numerous charges in Oregon crash
The driver whose tractor-trailer left an Oregon highway and slammed into a parked van killing seven people and injuring four more was indicted on 13 charges earlier this week.
A Marion County, Oregon grand jury on Tuesday indicted Lincoln Clayton Smith, 52, on 13 charges related to a fatal crash May 18 on Interstate 5.
Smith faces seven charges of manslaughter in deaths of seven farmworkers killed when the 18-wheeler Smith was driving veered off the highway, striking a passenger van and another parked semi-truck. The grand jury also indicted Smith on charges of assault, reckless driving, and driving under the influence of intoxicants, according to court records.
Smith allegedly was under the influence of a controlled substance and an inhalant, according to charging documents.
ICYMI
Recalls: One for backup light problems, the other for turn signal issues
Washington state law provides truckers with bathroom access
Latest Gear Guide features truck show calendar, inverter information
Alabama trucker honored for rescuing tanker driver who crashed