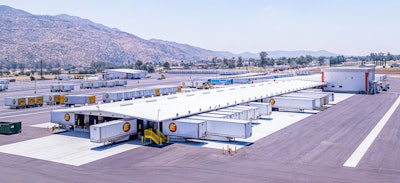 Ed Tyler Photography
Estes Express Lines recently celebrated the opening of its new, state-of-the-art terminal in Banning, California. The new terminal expands the Richmond, Virginia-based carrier's growth on the West Coast.
The 39-acre terminal is located about 30 miles east of Riverside near Interstate 10.
Among its sustainable features are all electric forklifts, one of the first terminals in the Estes network to employ the technology. It also is home to eight electric tractors.
The new terminal has 133 doors and a three-bay shop.
Estes said the new location features energy-efficient interior and exterior lighting throughout the terminal and uses 85% less electricity than conventional lighting.
The carrier has more than 280 terminals across the U.S. and Canada. It employs more than 10,100 drivers and has 9,694 tractors and 37,032 trailers.