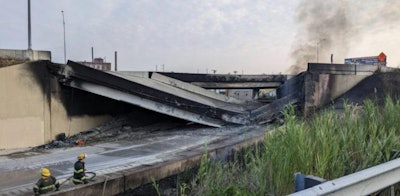 Philadelphia Fire Department
Interstate 95 in northeast Philadelphia is closed in both directions because of what officials believe was a tanker truck fire Sunday morning under a bridge on the northbound lanes of the interstate to collapse. The blaze, which occurred at about 6:30 a.m., also damaged the southbound bridge.
City officials are saying the damage to the bridge will take weeks to repair.
"I-95 will be impacted for a long time, for a long time," said Philadelphia managing director Tumar Alexander in an interview with The Philadelphia Inquirer.
All lanes of I-95 are closed in both directions between Woodhaven and Aramingo exits.
The Pennsylvania Department of Transportation suggests these detours:
Heading northbound:
Take I-676 West to I-76 West
Take Exit 304B for U.S. 1/ Roosevelt Boulevard north
Go to Woodhaven Road/Route 63 exit and head east, which will take you to I-95 north of the collapse.
Heading southbound:
Take Exit I-95 onto state Route 63/Woodhaven to U.S. 1/Roosevelt Blvd. south
Get on I-76 East, to 676 East and then merge onto I-95 southbound
Drivers can follow PennDOT on Facebook for further details.