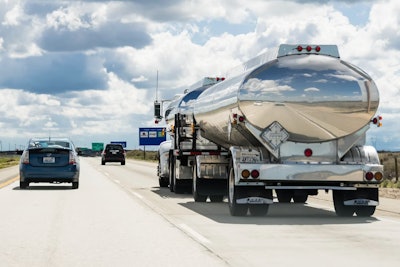 Nebraska Gov. Jim Pillen recently issued a temporary executive order to allow truck drivers hauling fuel to extend their hours of service due to a fuel shortagae.
The governor's order is designed to help reduce delays at petroleum product terminals, facilitating timely delivery of fuels to consumers, according to a statement from Pillen's office.
It is effective immediately and will remain in effect through Sept. 4.
The order temporarily allows drivers to work extended hours hauling gasoline, gasoline blends, diesel, fuel oil, ethanol, propane, or biodiesel.
Drivers utilizing the hours of service waiver are required to have a copy of the governor's order with them. It can be found here.
Tank truck association honors three carriers
Three carriers recently were honored with the North American Safety Award, which is given by the National Tank Truck Carriers and recognizes companies with exceptional safety standards and practices within the transportation industry,
The awards were presented during the NTTC's annual conference in Boston.
Divided into three categories based on their respective operational metrics, the award recognizes excellence in the Sutherland Division (for-hire carriers with under 15 million highway miles), Harvison Division (for-hire carriers with over 15 million highway miles), and the Private Fleet Division.
The winners were:
Private Fleet Division: Gemini Motor Transport
Harvison Division: Tandet
Sutherland Division: Harmac Transportation
Love's company's new DEF terminal to supply Northeast
Musket Corp., the trading and logistics arm of the Love's Family of Companies, recently opened a diesel exhaust fluid terminal in Taunton, Massachusetts. This is the company's 23rd facility in the United States and the first of several new DEF terminals slated to open this year, according to the company.
The terminal has a dedicated rail spur and 525,000 gallons of storage capacity that will provide 24/7/365 reliable access to DEF for all customers in the Northeast, including Love's Travel Stops.
"We're thrilled to open our first DEF terminal in the New England market," said Brian Hoover, Director of DEF for Musket. "Taunton expands Musket's DEF footprint providing necessary supply redundancy to support wholesale distributors, retail outlets, and commercial truck drivers throughout the region. Musket DEF terminals not only provide reliable supply but also reduce empty miles in a challenging transportation market."
Musket currently has 23 terminals in 16 states and will open terminals in Theodore, Alabama, and Plymouth, Minnesota this summer with plans for additional locations by the end of 2023.
ICYMI
Speeding focus of CVSA's upcoming Operation Safe Driver Week
Top owner-operator rigs take center stage at Shell Rotella SuperRigs
Driver Poll: Do fleet safety scores factor into your job decisions?