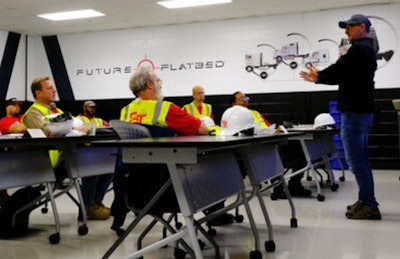 PGT Trucking
PGT Trucking, Inc. recently opened a new truck driver training center in Blairsville, Pennsylvania.
The expanded facility has been designed to equip incoming drivers with the necessary skills, knowledge, and hands-on experience required to build safe and successful careers in transportation, according to a statement from the Aliquippa, Pennsylvania-based carrier.
"With the growth of our organization, we needed a larger facility where we could develop our driver training programs," said Chris Cousins, PGT Trucking, director of training. "The demand for skilled and qualified truck drivers has never been higher, and our new driver class sizes have been growing week over week. This new location has given us the opportunity to create an environment with advanced resources, expert instruction, and real-world training that closely mirrors the challenges drivers face on the road."
The new training center is located less than a mile from PGT's Blairsville terminal, within the New Village Institute campus.
The facility offers incoming drivers:
A comprehensive curriculum designed to cover all aspects of flatbed trucking, including pre- and post-trip inspections, truck maintenance, navigation, trip planning, and regulations, PGT's incoming drivers receive training to prepare them for the demands of the profession.
Extensive hands-on Training under the guidance of experienced instructors, drivers develop the necessary maneuvering techniques, driving strategies, securement standards, and safety protocols
Leading technology that enhances the driver's lifestyle and helps them perform their daily duties safely and efficiently
"This larger space provides us with the resources to train and support our drivers and solidifies our commitment to their growth and success here at PGT Trucking," added Cousins.
PGT Trucking, Inc., founded in 1981, is a multi-service transportation firm offering flatbed, dedicated, international, and specialized services.It operates over 1,000 power units and 1,500 trailers.
Estes offers online health, wellness program to employees
Richmond, Virginia-based Estes Express Lines now offers a leading digital-first fitness, health, and well-being platform Burnalong that provides employees and family members with access to live and on-demand health classes and information across 60 categories, ranging from exercise to mental health and chronic health conditions.
Burnalong's online platform gives employees the opportunity to schedule group classes together and offers company-wide challenges that encourage tracking of wellness habits (drinking water, going outside, eating vegetables, etc.) and class participation, according to Estes.
"We want to be a leader in our industry when it comes to employee wellbeing, and this is another way for us to show that helping our employees thrive is a top priority for Estes," said Sara Graf, vice president of sustainability, culture, and communications. "Burnalong is available to every full-time employee at Estes, and up to four family members, which ensures everyone can benefit from this well-being opportunity. We already offer a very robust wellness program through our HR benefits, and this new offering provides our employees with another way to focus on taking care of themselves and their families."
In early May 2023, Burnalong was distributed to Estes employees in staggered phases. As of June 6, 935 employees have activated their free accounts, and by the end of 2023, Estes said it hopes to have over 3,600 employees as active users.
"In addition to promoting a healthy workforce, there is a connection between safety and wellbeing. Data shows that accidents are less likely to occur when employees are physically healthy, well-rested and hydrated," Graf said. "It's important for our employees who work non-traditional schedules to have options available to further their wellness journeys, and on-the-go programs like Burnalong allow them to take care of themselves on their schedule."
Wreaths Across America partners with Patriot Guard Riders
National nonprofit Wreaths Across America recently signed a memorandum of understanding with the Patriot Guard Riders in an effort to build a stronger awareness for each group's common missions, while supporting events throughout the nation.
WAA is best known for its annual wreath-laying ceremonies on the graves of military service members each December. The organization's yearlong mission is to remember the fallen, honor those who serve, and teach the next generation the value of freedom.
Founded as a national nonprofit in 2005 to shield families of fallen heroes from those that would disrupt the services of their loved ones, the Patriot Guard Riders has grown to include thousands of members across all 50 states. PGR also honors first responders as well as military veterans. Additionally, the organization has an active Help on The Homefront program, which aids veterans and their families.
The agreement between the two groups focuses on engagement with PGR members and WAA volunteers to create opportunities for joint community service activities that bring awareness to both groups' missions.
This year, National Wreaths Across America Day will take place on Saturday, Dec. 16, at over 3,700 participating locations nationwide.
ICYMI
Governor: Closed section of I-95 in Philadelphia to open in 2 weeks
New edition of Rand McNally's Motor Carriers' Road Atlas now available
Load of Brussels sprouts found to also contain $4.3 million of meth