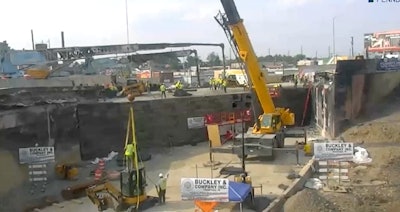 PennDOT
Pennsylvania Gov. Josh Shapiro announced late last week that the section of Interstate 95 in Philadelphia that collapsed in a tanker truck fire will reopen sooner than expected.
The temporary fix to create three lanes in each direction while a complete replacement bridge is built will be ready for traffic in two weeks. Shapiro made the announcement Saturday when President Joe Biden surveyed the construction site from the air.
"I can state with confidence that we will have I-95 reopened within the next two weeks," said Governor Josh Shapiro at the briefing with President Biden at Philadelphia International Airport. "We are going to get traffic moving again thanks to the extraordinary work of those here and our incredible union trade workers."
Workers are filling the gap below where the bridge was destroyed by the tanker fire June 11. That fill will come up to the level of the existing interstate, and the temporary lanes will be paved on top of it.
Nathan Moody, a 53-year-old driver from New Jersey died when the tanker truck he was driving crashed and caught fire under the I-95 overpass. The heat from the fire destroyed the northbound lanes and severely damaged the southbound lanes.
A 24/7 live stream is showing progress on the reconstruction.