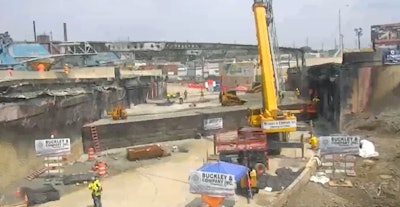 PennDot
During a campaign visit to Philadelphia today, President Joe Biden got a look from the air at the Interstate 95 reconstruction project.
Joining Biden on the presidential Marine One helicopter were Gov. Josh Shapiro, Sens. Bob Casey and John Fetterman and Rep. Brendan Boyle and Mayor Jim Kenney.. Afterward, the president was to receive a briefing on the situation and then attend a political event with union workers at the city's convention center.
Crews are creating a temporary fix of a section. of I-96 that was destroyed by a tanker truck crash and fire last Sunday. The plan calls for filling the gap between two sections of the interstate, paving three lanes in each direction, and then rebuilding permanent three-lane spans to carry traffic in each direction.
No timeline has been set for reopening the damaged section of the highway. Nor has there been a price tag affixed to it.
A live 24/7 livestream of work on the project can be seen here.