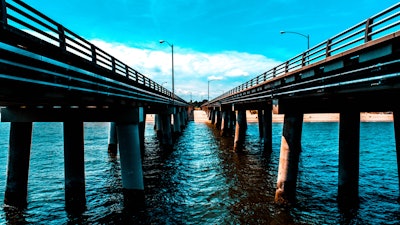 Efforts are expected to get under way today to remove from the water the tractor-trailer that went off the side of the Chesapeake Bay Bridge-Tunnel Thursday afternoon.
Coast Guard and law enforcement officials say the driver of the truck that left the bridge's northbound lanes near the 1-mile marker between Virginia Beach and the bridge-tunnel has not been located. The crash occurred at about 1:50 p.m. when the truck went off the west side of the bridge.
There were reports of a good samaritan jumping from the bridge into the water below to rescue the trucker, but there has been no official comment about that person's whereabouts.
The crash closed the bridge to traffic in both northbound for part of Thursday. Crews made temporary repairs and both northbound lanes were reopened Thursday evening.
Potted plants that were the cargo of the tractor-trailer have washed ashore on nearby beaches.
Virginia Beach Police, the Virginia Beach Fire Department, and U.S. Coast Guard personnel were assisting the CBBT Police as rescue efforts and an investigation into the accident continued.