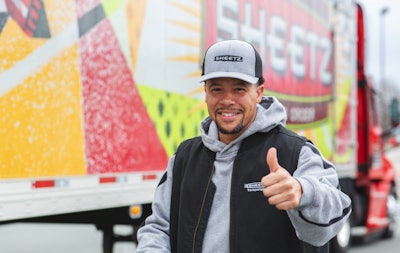 Sheetz
Today Sheetz announced it will celebrate the upcoming Truck Driver Appreciation Week by reducing diesel fuel prices by 35 cents a gallon.
The price will be reduced for Sheetz's auto diesel and truck diesel offerings at all of Sheetz's 680+ locations. Additionally, Sheetz will decrease its diesel exhaust fluid prices to 99 cents a gallon at the pump.
Both price reductions will begin on Labor Day (Sept. 4) and end on Sept. 16.
"Truck drivers positively impact the fabric of everyday American life," said Travis Sheetz, President & CEO of Sheetz. "They are truly the backbone of this country and, as a company, we are committed to showing our appreciation. Our hope through this is to provide extended offers that will be beneficial to them and involve the public so we can shine a light on the hard work these drivers do."
Sheetz will further show its appreciation by offering a Sheetz branded trucker hat at its 37 truck diesel locations to any new or current loyalty customers. Sheetz will also offer five different weekly deals in September and into October, redeemable for truck drivers through the Sheetz app:
Sept. 1-7 – 99 cent energy drink from the cooler with any purchase
Sept. 8-14 - Free half meatball or turkey sub with any purchase
Sept.15-21 - Mix and match any two 20 oz sodas for $2 with any purchase
Sept. 22-30 - Earn 500 bonus loyalty points with any purchase
Oct. 1-7 - Purchase any two Powerades for $3