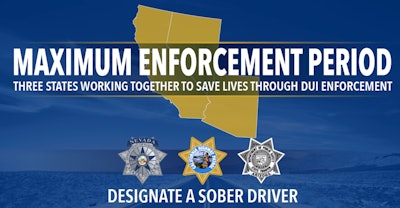 Law enforcement agencies in three states will partner this weekend for a Maximum Enforcement Period meant to curb traffic violations.
This weekend, the Arizona Department of Public Safety, California Highway Patrol, and Nevada Highway Patrol will join forces for a "tri-state enforcement initiative," according to a statement from the Arizona Department of Public Safety.
The traffic enforcement effort will begin at 6:01 p.m. on Friday, Sept.1, and continue through 11:59 p.m. on Monday, Sept. 4.
During the MEP, officers will be on the lookout for all traffic violations, with a special emphasis on identifying and apprehending anyone suspected of driving under the influence of drugs or alcohol.
"Getting behind the wheel of a vehicle while impaired by alcohol and/or drugs puts every driver, passenger and pedestrian on our roads at risk," said Colonel Jeffrey Glover, Director of the Arizona Department of Public Safety. "All too often, troopers investigate fatal or serious injury collisions caused by impaired drivers. AZDPS is committed to enforcing laws and educating motorists in our effort to keep everyone safe during Labor Day holiday travel and beyond."
SC tech college offers new CDL program
Aiken Technical College in Graniteville, South Carolina has partnered with Ancora Training to offer a new CDL Class A tractor-trailer course.
During the course, Ancora instructors will provide students with practical, hands-on experiences driving tractor-trailers and teach them critical skills such as equipment inspection and maintenance, road and safety laws, defensive driving and trip planning.
The course will be offered during the day and evening this fall. Day sessions will last four weeks, with students meeting from 7 a.m. to 5:30 p.m. Monday through Thursday. Upcoming day session start dates are Sept. 18, Oct. 16 and Nov. 13.
An evening session will also be offered, with the class starting Sept. 18 and lasting nine weeks. Students in the evening session will meet 5:30-9:30 p.m. Monday through Thursday.
Course dates for the spring will be added in the future.
The course will be offered at no charge for South Carolina residents thanks to various grant funding sources; for out-of-state residents, the fee will be $4,800. To get started, those interested should email the Office of Continuing Education at Aiken Tech at conted@atc.edu.
ICYMI
Already high for the year, cargo thefts could spike over Labor Day weekend
These are busy times for mergers and acquisitions with even more to come
Driver Poll: Have you participated in any trucking-related training or upskilling programs in the past year?