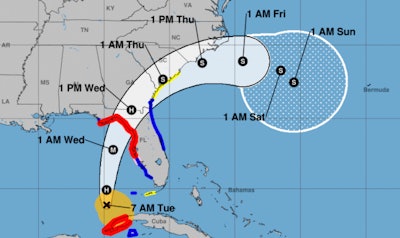 National Weather Service
Forecasters now say Hurricane Idalia is expected to strengthen and become a Category 3 storm as it makes landfall early Wednesday morning in the area of Florida's Big Bend. A total of 13 million residents are under hurricane/tropical storm warnings.
In the most recent briefing at 11 a.m., forecasters at the National Weather Service's National Hurricane Center said the storm's maximum sustained winds are now at 85 mph but are expected to increase significantly as the storm comes ashore. A storm surge warning of 8 to 12 feet is in effect for Tampa Bay and Big Bend.
Idalia is also expected to deliver significant rainfall and flash flooding along Florida's west coast and panhandle and southern Georgia. today. Heavy rains are expected in the Carolinas Wednesday and Thursday as the storm tracks in a northeasterly direction.
Mandatory evacuation orders have been issued for some residents of several counties including Citrus, Dixie, Franklin, Gulf, Lafayette, Levy, Pasco, Pinellas, Suwannee, Taylor, and Wakulla. Voluntary evacuation alerts have been issued for seven other counties.
A state of emergency was declared earlier this week and now covers 46 counties in Florida ahead of Idalia's approach. Under the emergency declaration certain regulations for commercial motor vehicles providing direct emergency assistance are suspended. The emergency order is in place Until Sept. 25 or until it's rescinded.
The state's Highway Patrol has 300 troopers on alert and 200 ambulances are staged inland where Idalia is expected to make landfall.