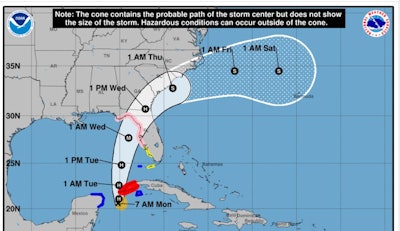 National Weather Service
A state of emergency was declared for 33 counties in Florida as tropical storm Idalia is expected to reach hurricane status before it arrives along the state's Gulf Coast as early as late Tuesday.
Under the emergency declaration certain regulations for commercial motor vehicles providing direct emergency assistance are suspended. The emergency order is in place Until Sept. 25 or until it's rescinded.
The National Hurricane Center said in its latest update that the storm could deliver life-threatening storm surge and dangerous hurricane-force winds along portions of the west coast of Florida and the Florida Panhandle.
A hurricane watch has been issued for Florida's Gulf Coast from Mexico Beach in the Panhandle to Fort Meyers about 100 miles south of Tampa. The hurricane center's forecast calls for Idalia to pack winds of up to 115 mph with gusts reaching 145 mph by Wednesday afternoon.
Idalia is expected to cross Florida from Tampa and continue along the coast of Georgia Tuesday into Wednesday and the Carolinas Wednesday into Thursday.