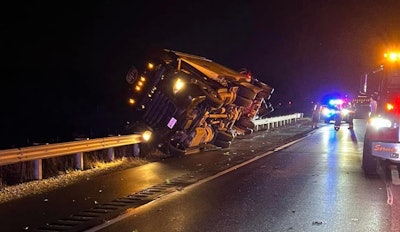 Ingham County Emergency Management.
Fifteen trucks and 10 cars were blown over Thursday when high winds associated with a tornado blew through southcentral Michigan.
The Michigan Trucking Association reported the trucks were blown over on Interstate 69 between Fowlerville and Williamston as part of turbulent weather that flooded parts of the state and knocked out power to some 415,000 customers. As much as 8 inches of rain fell near Detroit Metropolitan Airport, canceling 23 flights and delaying 60 others.
A mother and her two children were killed in a weather-related car crash in Kent County on the western side of the state.
Michigan suffered under two days of violent weather that included heavy rains and winds up to 70 mph.