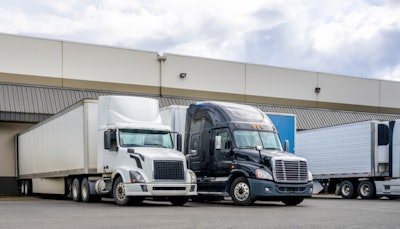 The Federal Motor Carrier Safety Administration plans to once again to consider the effects driver detention has on highway safety.
The agency Wednesday announced the scope of the information it wants to receive from carriers to better understand how the time drivers spend at shippers and receivers can effect their driving performance. The FMCSA said it expects to collect information on 2,500 drivers from 80 carriers during the year-long study.
This information will allow FMCSA to identify the severity and frequency of detention time, the factors that contribute to detention time, and the administrative, operational, and safety outcomes of detention time.
"The study will provide a better understanding of the impact of driver detention time on driver safety and CMV operations and inform strategies that may be used to mitigate driver detention time," the agency said.
FMCSA also said, "Detention time in the CMV (commercial motor vehicle) industry is a longstanding issue and consistently ranks as one of the top problems for a large portion of CMV operators on an ongoing basis. Further, detention time often results in lost revenue for many drivers and carriers. Reducing detention time may reduce costs for carriers, increase pay for drivers, and improve CMV drivers' ability to make deliveries on time or arrive at a destination as planned without violating hours of service (HOS) requirements. Finally, drivers who experience less detention time may be more likely to drive safely to reach their destinations within the HOS limits and less likely to operate beyond HOS limits and improperly log their driving and duty time to make deliveries on time."
The agency said the data collection will allow it to:
Assess the frequency and severity of driver detention time using data that represents the major segments of the motor carrier industry
Assess the utility of existing intelligent transportation systems solutions to measure detention time
Prepare a final report that summarizes the findings, answers the research questions, and offers strategies to reduce detention time
FMCSA is accepting public comments until Oct. 23. Comments made be made online here.
DHL and Girl Scouts to create logistics training
DHL Supply Chain, a provider of contract logistics and part of DHL Group, recently announced a partnership with Girl Scouts of the USA that will establish a program and branded patch to empower Girl Scouts to learn about the importance of the supply chain industry and discover a myriad of careers in the field.
DHL Supply Chain has been a supporter of Girl Scout councils throughout the U.S, including providing local mentorship opportunities in several cities including Columbus, Ohio, and Detroit, Michigan. As the company looks to expand its support of the organization, it has committed $1 million.
DHL Supply Chain and Girl Scouts of the USA will collaborate on developing and piloting the skills training program with at least 10 councils from 2023 to 2024. The patch program will become available to Girl Scout troops across the United States in 2025 and 2026.
"We are proud to expand our relationship with Girl Scouts of the USA. Entrepreneurship is a pillar of the Girl Scout experience and we're excited to show Girl Scouts the ins and outs of supply chain and logistics while exposing them to career paths in the industry," said Scott Sureddin, CEO, DHL Supply Chain, North America.
ICYMI
Survey: 72% of drivers say Yellow's closing impacted their mental health
Combined, 2 new Love's locations have 151 truck parking spaces
Which safety measure do you think has the most impact in preventing accidents?