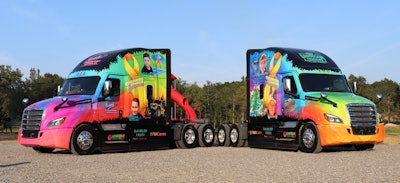 R.E. Garrison
An Alabama carrier with a tradition of using its trucks to showcase good causes recently revealed its two latest designs.
On Saturday, August 19, R.E. Garrison Trucking Inc. and Boaty's Transport, in partnership with Lonestar Truck Group and Daimler Truck North America, unveiled the company's two newest wrapped trucks, these trucks will benefit childhood cancer awareness.
Earlier this year Dale Elder with Daimler Truck North America was meeting with his team in Charlotte, North Carolina brainstorming ideas for a fundraiser to support St. Jude Children's Research Hospital when a team member suggested wrapping a truck. Elder reached out to Adam Arrington with Lonestar Truck Group and a deal was done.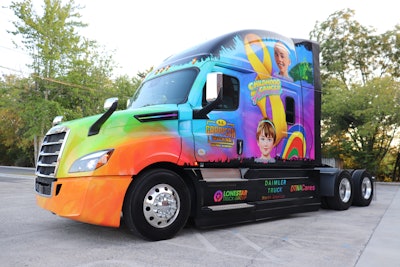 R.E. Garrison's President Wyles Griffith and Vice President Donovan Lovell were immediately on board. The R.E. Garrison marketing team spent the next several months working with Jaylon Crump, Lonestar Truck Group, the designer to create a likeness of each honoree that would tell their story. The vision became to share these children's stories the only way the partners knew how: to put it out on the road.
Once the truck designs were finalized the focus shifted to how to share them with the families and it was quickly decided that Cullman was the perfect place. The families arrived on Friday for a dinner at The Venuse at Cotton Creek and featured a presentation introducing each honoree to the industry partners present, including those from Wallace State Community College who brought out a truck simulator for the event.
On Saturday morning, the Garrison Gives Hope Ambassadors accompanied the families to the U.S. Space and Rocket Center in Huntsville, Alabama before it was time for the big reveal. At 5 p.m. on Saturday there was a celebration downtown with fun jumps, food trucks, music, and the two wrapped trucks.
These trucks are expected to create awareness with all of the miles they run. Marketing statistics tsay that for each mile a wrapped vehicle runs, 600 impressions are generated. These trucks will average about 125,000 miles per year, adding up to about 75 million impressions per year. At a lifespan of four years, together they will be seen over 600 million times.
In the past, R.E. Garrison has wrapped trucks to raise awareness of breast cancer and autism.