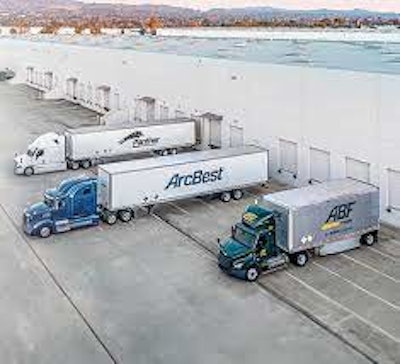 ArcBest
ArcBest announced today it was named to the 2023 Forbes list of America's Best-in-State Employers list for the fourth consecutive year. ArcBest ranks No. 3 in Arkansas and No. 1 in the state's transportation and logistics sector. The company was also named a top employer in Ohio, ranking No. 65.
This award is presented by Forbes and Statista Inc., a statistics portal and industry ranking provider.
"This recognition from Forbes further solidifies ArcBest's position as a leading workplace where our employees can grow and thrive," said Erin Gattis, ArcBest's chief human resources officer. "Our team proudly fosters a values-driven culture deeply rooted in creativity, integrity, collaboration, growth, excellence, and wellness. We are committed to taking care of our people and living out our core values every day and genuinely believe this dedication is a testament to our 100-year legacy and longstanding investment in our workforce."
America's Best-in-State Employers for 2023 were identified based on 2.1 million employer recommendations from people working for companies that have more than 500 U.S. employees. Employers were grouped into one of 25 industries, and employers with operations in more than one state were ranked in multiple states.
The evaluation is made on a state-by-state basis around three distinct criteria: in-state indirect recommendations, national in-industry indirect recommendations and direct recommendations. Employees were also asked to give their opinions on a series of statements surrounding topics such as working conditions, diversity, salary, potential for development, and company image regarding their current employer.
"As we celebrate our centennial, we recognize and congratulate our more than 15,000 employees who are truly at the heart of our success," said Gattis. "ArcBest's people-first mentality will always be at the forefront of what we do, and we are committed to providing our team with competitive benefits and a rewarding work environment."
ArcBest is headquartered in Fort Smith, Arkansas.
Minnesota trooper wins inspector award
The Commercial Vehicle Safety Alliance recently announced that Tomasz Krolak with the Minnesota State Patrol has earned this year's North American Inspectors Championship Jimmy K. Ammons Grand Champion Award, the highest honor for a commercial motor vehicle roadside inspector.
Krolak was announced as this year's NAIC Grand Champion and accepted his trophy at the joint awards ceremony of CVSA's North American Inspectors Championship and the American Trucking Associations' (ATA) National Truck Driving Championships and National Step Van Driving Championships.
Krolak has been invited to attend and speak at the CVSA Annual Conference and Exhibition awards luncheon on Sept. 20 in Grapevine, Texas.
ICYMI
Time to have your say, take ATRI's annual Top Industry Issues Survey
Driveshaft issue leads to recall of more than 600 International trucks
Which safety measure do you think has the most impact in preventing accidents?