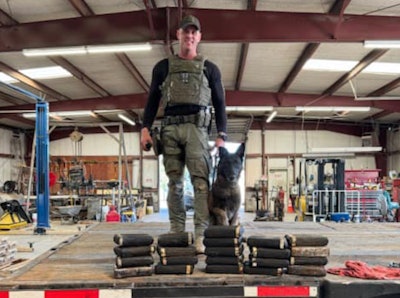 Fayette County Sheriff's Department
Fayette County Sheriff Keith Korenek reports that on the afternoon of Oct. 31, the department's narcotics canine unit stopped a tractor-trailer for a traffic violation.
Fayette County is located about halfway between Houston and San Antonio in southeastern Texas.
After speaking to the driver Sgt. Randy Thumann observed what a statement from the sheriff said were "many indicators the vehicle was being utilized to smuggle narcotics from Mexico into the U.S." Thumann was given consent to search the vehicle with his K9 partner Kolt.
Thumann discovered the flatbed trailer's axles had been altered to conceal contraband. Thumann removed about 23 kilos (50.7 pounds) of cocaine with a street value of $2.3 million from the trailer's axles, according to the sheriff's department's statement.
The driver Carlos Enrique Ruiz Rebullosa of Monterrey, Mexico was arrested for felony drug possession and taken to the Dan R. Beck Justice Center.