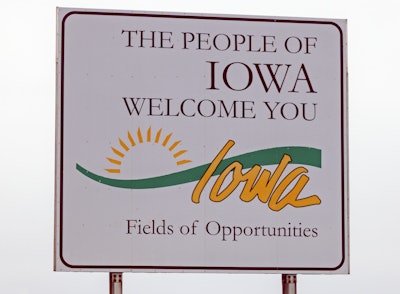 Iowa is the latest state to waive certain hours of service regulations for fuel haulers. Neighboring states South Dakota and Nebraska also recently suspended HOS regs for some fuel haulers.
Gov. Kim Reynolds on Oct. 28 signed a proclamation that temporarily suspends hours of service regulations for drivers hauling motor fuels including, gasoline, diesel No. 1, diesel No. 2, ethanol, biodiesel, aviation gas, and jet fuel. The order also allows these trucks to be overweight, up to 90,000 pounds, without a permit.
The proclamation cites "extensive challenges to timely access to supplies of motor fuels," as well as "long wait times at terminals" for fuel haulers.
"Long wait times at petroleum product terminals, combined with the need to truck motor fuels over long distances, make it difficult for transporters to meet demand and comply with state and federal hours-of-service requirements," the proclamation reads. It adds that the temporary suspension of hours-of-service regulations in the state "will increase the amount of these products transported" in Iowa and reduce "the damaging effects of this access constraint."