Finding parking in a safe, well-lit lot is a priority for women truck drivers, and a new mobile app may be able to help with that task.
Park My Truck,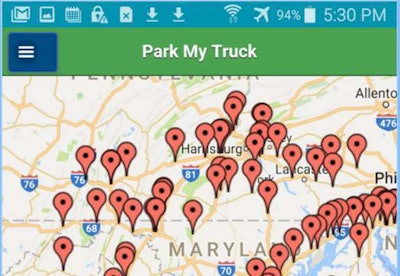 which was created with the support of the National Association of Truck Stop Operators and its foundation, the American Trucking Associations and the American Transportation Research Institute, covers some 150,000 truck parking spaces across the country.
It was rolled out at the ATA's Management Conference & Exhibition in Las Vegas recently, and is available for iOS and Android.
Administered by the NATSO Foundation, Park My Truck is accessible for free online and through smartphone apps by drivers, trucking fleets, state and other administrators of highway rest areas. Park My Truck includes the truck parking spaces for nearly 5,000 truckstops and some rest areas. Participants reporting available truck parking information include independent truckstops as well as chain locations.
"Park My Truck was developed by the truckstop industry in conjunction with our trucking partners based on feedback from professional drivers and trucking companies who often describe truck parking availability as a critical need," said Lisa Mullings, the president of NATSO and the NATSO Foundation.