The Owner Operators Independent Drivers Association has no plans of giving its fight against electronic logging devices just because the highest court in the land refused to consider its lawsuit.
The U.S. Supreme Court Monday announced it would not hear the association's argument against ELD, so the 158,000-member will take its fight to Congress.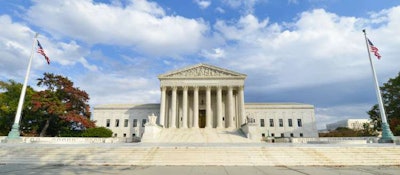 Shortly after the Supreme Court announced its decision, OOIDA President and CEO Jim Johnston said the association will ask the federal government to delay the Dec. 18 implementation of the mandate that requires ELDs be installed in most interstate heavy trucks.
"We are extremely disappointed that the Supreme Court does not see the merit in reviewing our case with so many questions about its constitutionality," said Johnston. "We will continue to pursue the issue on the congressional side as there are still many questions about the technical specifications and enforcement aspects of the mandate. Until the government is able to answer many fundamental and basic questions about the mandate, they should at least delay its implementation.
"The mandate is the equivalent of warrantless surveillance of truckers and it violates their Fourth Amendment rights. That intrusion on the rights of hard-working Americans cannot be justified. The mandate will not improve safety. It will, however, be another costly regulatory burden heaped upon an already over-regulated industry."
However, another major trucking organization applauded the high court's decision. A statement by the American Trucking Associations said, ""We are pleased to see that the Supreme Court will not interfere with the implementation of this important, and Congressionally mandated, safety rule. We will continue to support FMCSA as they work toward the December deadline for electronic logging devices and urge them to provide certainty to the industry about when and how to comply with this rule by continuing to move toward implementing this regulation on schedule."