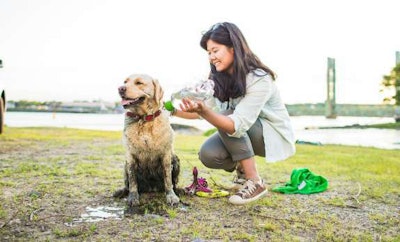 For some of our canine traveling companions, mud puddles have an otherworldly magnetic attraction. As mindful as you may be while walking your dog, it only takes a second for them to find a puddle and go from pristine pup to mud puppy.
More often than not, a dog washing station may not be handy. Besides, you want your dog clean before they get back in your truck.
Kurgo, a maker of numerous products for dog owners, has a solution with its Mud Dog Shower. This handy nozzle simply screws onto the top of a soda bottle you can fill with water (or some cheap bottled water if you have to buy some). Tip it up and squeeze and it provides a stream of water to get rid of the mud.
Kurgo also suggests it can be used to give your pup a drink after a walk.
We're also thinking that, in a pinch, this could be a useful way to rinse off after a walk or a hard day's work when a shower is not handy.
Available online for $11.69.