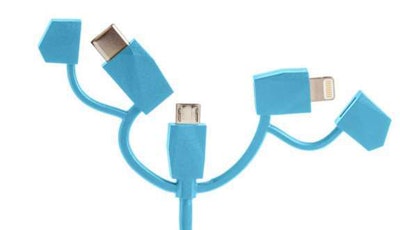 The days of having just one device in need of charging have long since past. And. most often each requires a different charging cord.
The Calamari 2.0 3-IN-1 charge cable changes all of that. It has not one, not two but three different ports. The 3-foot-long cable has:
Lightning 8-pin (compatible with Apple iPhone 5S, 5, iPod Touch 5th, Nano 7th, iPad 4, iPad mini)
30 Pin (compatible with Apple iPhone 4, 4S, iPod, and iPad 1 and 2)
Micro USB (compatible with Samsung GALAXY S,GALAXY S III, GALAXY NOTE, HTC One, Nexus 5, Moto X, Nokia Lumia, and many more)
Comes in red, electric blue, black and white.