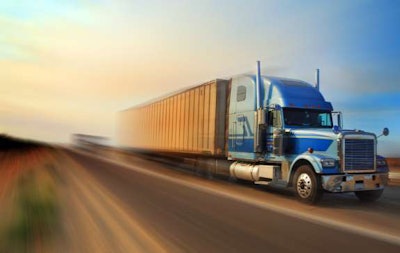 Members of the House of Representatives recently approved an amendment to a 2018 spending bill that would block efforts to require speed limiters on most heavy duty trucks.
The lower house approved by a voice vote Rep. Scott Perry's (R-Pa.) amendment that prohibits the Federal Motor Carrier Safety Administration from finalizing the proposed rule. The proposal drew fire from industry trade organizations, highway safety advocates and drivers.
However, the amendment could be largely symbolic.
Reporting for our sister publication Overdrive, News Editor James Jaillet writes:
However, the amendment may be a moot item, given that it is only effective through the 2018 fiscal year (ending next September) and that FMCSA has already signaled it does not plan to pursue a speed limiter mandate in the near term. The agency said in July in a bi-annual regulatory update that it has moved the speed limiter mandate rule to a long-term agenda item.
Given the Trump administration's stance against new regulations, it's been presumed that the speed limiter mandate would likely stall. The agency had worked on the rule for several years prior to unveiling its proposed mandate in September 2016, in which it proposed governing trucks to one of three options: 60 mph, 65 mph or 68 mph.
The agency was going to lean on public comments by industry stakeholders to determine which speed limit would ultimately become the law. The DOT sought public comment for 90 days. Trump won the 2016 presidential election in the middle of the 90-day comment period and was inaugurated about a month after the end of the comment period. The rule has seen no public work since.