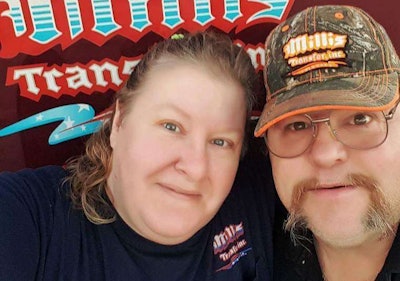 Company driver Jennifer Sterritt-Smith, from Frankfort, New York, already knew all about the trucking industry before she even got a CDL of her own.
She worked as a waitress at a truck stop, her father was a diesel mechanic, her second cousin owns a trucking company and her brother is also a trucker.
When she met the man who would become her husband, Steve Smith, at the truck stop she worked at, she started riding along with him. Her background in the industry, combined with her desire to travel, led her to get behind the wheel on her own.
"I had wanderlust so it didn't seem like a big stretch of imagination to get paid to do it," Sterritt-Smith said.
She started driving in 1996, and today pulls a 53-foot dry van for Millis Transfer hauling general commodities. Sterritt-Smith has driven over two million safe miles. She hauls a lot of beer and likes doing that because there's no shortage of freight.
"We work for breweries so there's a lot of freight involved with that. Bottles, boxes, different products that go for beer," Sterritt-Smith said. "It's usually no problem getting freight. It's consistent."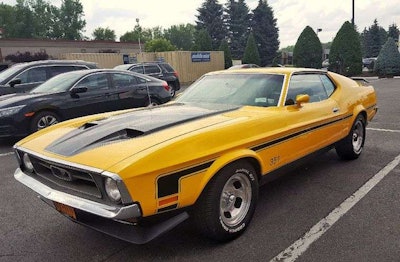 Sterritt-Smith has also been a driver trainer since 2004. She initially didn't think she would enjoy being a trainer, but she likes meeting new people and helping them learn the industry.
"I have the patience for it. I didn't think I would like doing it but it's actually a nice way to meet people and get to know somebody one-on-one," she said.
She advises her students to always slow down and take their time.
"Don't get frustrated. Double-check everything. Even when it's hard, tomorrow's another day. Just roll with it. Sometimes you've got to be able to roll with it, whatever it may be," Sterritt-Smith said.
When she's not trucking, she and Steve like to cruise around in their recently purchased 1971 Mustang muscle car. She grew up driving muscle cars but didn't appreciate them as much at the time. They bought the car fully restored.
"I've always wanted a Mustang, a classic muscle car. I've driven many of them. I've had Camaros, Firebirds and TransAms and all kinds, but I didn't take such good care of them when I was younger," she said. "Now I appreciate them."