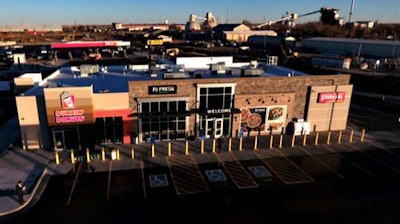 Two major truck stop chains have started out 2018 by opening a total of three locations, which add a combined 89 new truck parking spaces.
Love's Travel Stops opened a new store in Alma, Arkansas, while Pilot Flying J opened a new location in Lamar, Colorado and unveiled a renovated one in Remington, Indiana.
New Love's in Arkansas
Located at 8060 State Route 282 (Interstate 49, Exit 24), the store that opened last Thursday is the company's third location along the 500-mile stretch of I-49.
The newest location includes:
55 truck parking spaces
three showers
Chester's Chicken and Subway restaurants
laundry facilities
Love's Truck Tire Care center
With the addition of the Alma store, Love's now operates 12 travel stops in Arkansas. Love's also operates two Speedco locations in the state in North Little Rock and West Memphis.
"We're committed to growing in areas of need. Interstate 49 between Fayetteville, Arkansas, and Fort Smith, Arkansas, is a heavily traveled freight route with limited services for professional drivers," said Greg Love, co-CEO of Love's.
Love's now has more than 440 locations in 41 states.
Two Pilot Flying J Openings
Pilot Flying J recently announced the opening of a new location in Lamar, Colorado and the opening of its Pilot Travel Center in Remington, Indiana, which had been under renovation since August.
The Lamar location is located at 708 North Main Street, and is PFJ's fourth location in Colorado. It has:
34 truck parking spaces

three showers

six diesel lanes with high-speed pumps
10 gasoline fueling positions
PJ Fresh, fast casual food offerings, including PJ Fresh Pizza, soup, sandwiches and hot dogs
Dunkin Donuts with drive thru
Western Union
Driver's lounge
CAT scale
The Pilot Travel Center in Remington, Indiana was rebuilt as part of the company's $485 million facility enhancement project. Located at 4154 West US Hwy. 24, it has:
New Taco Bell with drive-thru
Enhanced Subway
PJ Fresh
Seven new showers
New restrooms
New driver's lounge
Pilot Flying J plans to add a Truck Care Service Center at the Remington location this spring.