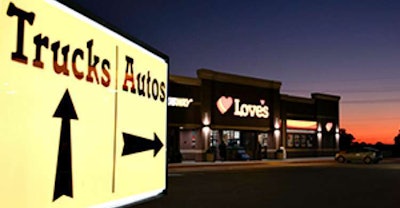 Love's Travel Stops plans to continue expanding in 2018 about as it did last year, including adding more than 3,000 truck parking spaces.
The company opened 36 new stores in 2017 and today said plans call for 40 new locations this year. In a statement today, Love's said, it will "add thousands of new truck parking spaces, expand on-site truck and tire care services, and bring three additional hotels to Love's Hospitality to give professional drivers more options, convenience and flexibility on the road."
Love's said it will also reduce customer wait times by adding automated showers at nearly all of its travel stops, and create 42 more public laundry service locations.
Trillium will broaden its offerings this year to include electric vehicle charging stations, solar panel installation and hydrogen fueling, as well as additional compressed natural gas locations.
"We diligently listen to our customers' needs and are dedicated to meeting them and improving professional drivers' quality of life," said Frank Love, co-CEO of Love's. "We're doing our part to address the truck parking shortage by adding more than 3,100 parking spaces at newly built travel stops. Our customers will also have increased access to reliable maintenance services because we are adding light mechanical offerings to select Speedco locations to help them get back on the road faster."
Love's acquired all 52 Speedco locations in 2017.