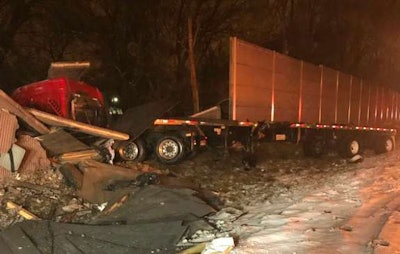 Indiana State Police report a tractor/trailer hauling steel crashed through a sound barrier wall on I-80/94 in Hammond Sunday night after being struck by a car.
Neither driver sought medical attention following the accident, which occurred at about 11:20 p.m. about half a mile from Calumet Avenue, according to police.
A statement from the troopers said:
A 2012 Chevrolet Camaro, driven by Aaron Sparkman, 23 of Merrillville, Indiana, was westbound on I-80/94 at the 1.6 mile marker in the right lane when he changed lanes to go into the right middle lane. Sparkman lost control of the Camaro, went off the roadway to the north, and struck a concrete barrier wall. The Camaro then went back south into the right lanes of I-80/94 westbound and struck a semi.
David J. Horchner, 59 of Sand Lake, Michigan, driving a 2013 Freightliner pulling a flatbed trailer, owned by Star Truck Incorporated out of Grand Rapids, Michigan, carrying a load of steel plates, was westbound in the right middle lane when the Chevrolet Camaro came into his lane and crashed into the semi. This caused the semi to go off the roadway to the north, go down into the ditch and crash through the sound barrier wall.
Horchner's load of steel spilled and was expected to be cleaned up later today.