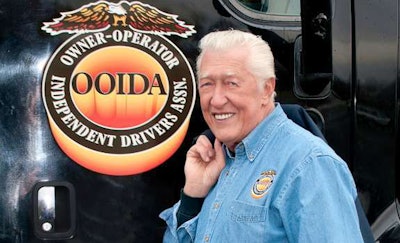 Jim Johnston, the president and CEO of the Owner Operators Independent Drivers Association since 1974, died Monday, Jan. 8. He was 78.
According to a story in Landline magazine, Mr. Johnston had suffered from lung cancer since 2016.
Mr. Johnston was born in Summerfield, Massachusetts, July 23, 1939, to Richard Vernon Johnston and Dorthea Kelley Johnston. He was raised in the Midwest after the family moved to Davenport, Iowa, when Mr. Johnston was a child.
He enlisted in the U.S. Navy in 1956, serving as a boilerman on four ships. After completing his military service, Mr. Johnston became part of the trucking industry as a driver and owner-operator.
OOIDA was formed in 1973 and Mr. Johnston became its president in 1974.
Over the years, Mr. Johnston served on the National Motor Carrier Advisory Committee to the U.S. Department of Transportation. He was a member of the Commercial Vehicle Safety Alliance Senior Strategic Advisory Committee, and a former member of the ITS America Commercial Vehicle Operations Policy Subcommittee, on which he served as chairman of the committee's Data Privacy and Control Task Force.
Mr. Johnston was preceded in death by his parents, Richard and Dorthea; brothers Richard Jr. and Sidney; and sisters Clair and Virginia. He is survived by his wife, Karen, brother, Chuck, and several nieces, nephews and grandchildren.
Details of his funeral have not been released.
OOIDA created an online page, where people may pay tribute to Mr. Johnston.