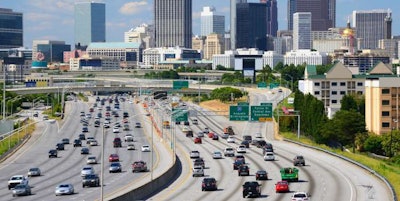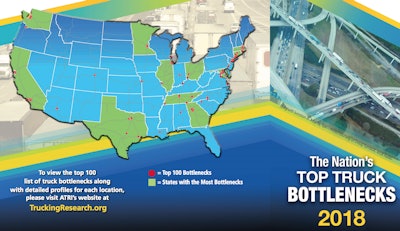 It's a three-peat Georgia probably wishes didn't happen.
For the third straight year, the intersection of Interstates 285 and 85 North — Atlanta's so called "Spaghetti Junction" — is the most congested freight bottleneck in the U.S., according to the American Transportation Research Institute.
ATRI today released its annual list of the 100 worst truck bottlenecks on U.S. highways. The top 10 includes:
Atlanta: Interstates 285 and 85 North
Fort Lee, New Jersey: I-95 at SR 4
Chicago: I-290 at I-90/I-94
Atlanta: I-75 at I-285 (North)
Los Angeles: SR 60 at SR 57
Boston: I-95 at I-90
Baltimore: I-695 at I-70
Queens, New York: I-495
Cincinnati: I-71 at I-75
Louisville, Kentucky: I-65 at I-64/I-71
Dennis Nash, Kenan Advantage Group CEO said "trucks are not moving because of congestion, choke points and bottlenecks on an aging highway system. Addressing congestion and delays at these key interchanges and highways can make our supply chain more efficient, improve the environment by reducing fuel burn and save Americans countless hours of delay and added costs."
The list of truck bottlenecks was based on a study of 300 locations on the national highway system and GPS data from more than 800,000 heavy duty trucks, according to ATRI.
Use the comments section below to tell us the worst bottleneck you encounter on a regular basis.