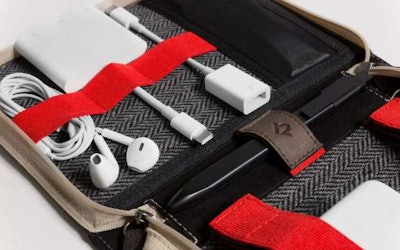 It's possible to keep your cables and device accessories organized and secure at the same time.
The Bookbook CaddySack Cable Travel Tote looks just like an old book. However, when you open the zipper, you find storage options for your charging cords and other accessories. While the CaddySack is designed specifically for iPhones, iPads, and MacBooks, it's compatible with a variety of cables, cords, and adapters.
The CaddySack features elastic straps for secure storage, and the soft interior protects your connectors from any damage.