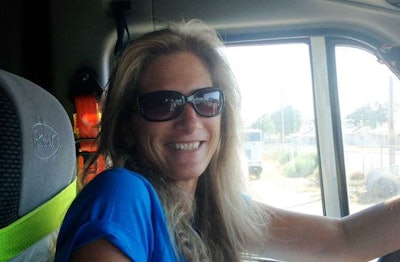 Ryder company driver Tracy Worley wants to see more women step into driver trainer roles to help bring new drivers into the industry.
Worley, from Tulsa, Oklahoma, was previously a driver trainer for about two and a half years. She trained women over-the-road for five to six weeks at a time, and says more women trainers are needed to instruct others joining the industry. When she was a trainer, she says had one trainee who had to wait for three weeks to have Worley train her.
"We really need women trainers in the industry. A lot of companies, if you want one, it's just not even a possibility. I would really encourage women drivers with experience to at least try it," Worley said.
Worley has been driving for about 12 years and most of that time was spent over-the-road. She's now a local driver so doesn't have as much opportunity to train. When she was training, though, she enjoyed getting to meet and work with all of her different students.
"Share the knowledge and help other women to get into the industry because we have a lot to offer and I think it's a more comfortable situation," Worley said of women trainers. "I would really encourage women to do it. There's just a big need for it."
Worley got her start in trucking after working for the postal service. She'd been working for the USPS and was also a part-time real estate agent. When she got laid off from the postal service Worley said she needed a new career path. Her stepfather, who was a truck driver, told her she should try driving and so she went to CDL school.
Looking back, Worley says she thought trucking sounded exciting because it would let her travel.
"Every time that I drove into a big city that first year I was like, my gosh, I didn't know that this was this big and beautiful. Everything was so exciting," Worley said.
Outside of the truck, Worley is a singer-songwriter. She grew up in a musical family and likes all kinds of music, from Janis Joplin to Patsy Cline.
"That's one of the things too that I love about driving a truck is I just sing my head off," Worley said.
She also sings at weddings, funerals and other events. She recently finished a Valentine's Day song for her wife, Sharmilee Worley.
"I usually lean more toward country and soft rock. The song that I just wrote for Valentine's Day kind of had a classic sound," Worley said.