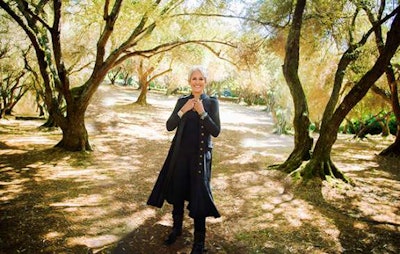 Joan Baez turned 77 shortly after the turn of the year, but she is far from resting on her considerable laurels. While she may be backing away from "formal extended touring," according to NPR, the fixture on the U.S. folk scene since 1959 just released a new CD and it seems in no way to be her goodbye.
Whistle Down the Wind (available for $13.98 on Amazon) is another volume in Baez's considerable collection of folk songs that address social injustice and her dedication to a more peaceful world. One cut on the new CD, "The President Sang Amazing Grace," is about the 2015 Charleston church shooting.
Unlike albums in the past, Baez did not write any of the songs on Whistle Down the Wind. Instead, she recorded works by the likes of Mary Chapin Carpenter, Tom Waits, Kathleen Brennan, Zoe Mulford, and Eliza Gilkyson.
Whistle Down the Wind, which arrived last week, is the 24th studio album for the 2017 inductee into the Rock and Roll Hall of Fame.
Cuts include:
"Whistle Down the Wind"
"Be of Good Heart"
"Another World"
"Civil War"
"The Things That We Are Made Of"
"The President Sang Amazing Grace"
"Last Leaf"
"Silver Blade"
"The Great Correction"
"I Wish the Wars Were All Over"