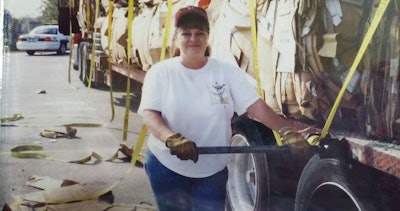 When she was just out of high school and 18 years old, Dywana Miller went to work on a sod farm stacking sod on the back of a tractor. When she found out they needed truck drivers, she knew she could do it and so she had them train her. She'd been dreaming about driving a truck since she was 5 years old.
"I grew up in Atlanta and they use to go up and down the street going to the railroad with those railroad boxes. I would practically break my neck trying to get to the front door to watch one come down the road," Miller said.
She's now been hauling flatbed for 35 years, having started in 1982, and she loves it now just as much as she did when she first started. She's driven for Janus International of Temple, Georgia, for the past 13 years. She said likes the challenge of hauling flatbed; it's what she has done her entire career.
"I like the fact that it keeps the driver motivated. Most flatbed companies I've worked for had their own forklift on the back and I would be able to drive the forklift, unload the commodity and then get back in the truck so it kind of broke the boredom of driving the truck," Miller said.
With all the different types of loads you can put on a flatbed, it keeps you on your toes, she says. You have to be able to think outside of the box and get creative. For anyone looking into hauling flatbed, Miller says they should try to get a lot of hands-on experience first.
"Hands-on training is best for flatbed. You can tell them all day long but they actually have to experience the size of a commodity to understand. A steel coil doesn't look that big when it's sitting in a huge warehouse but once you get that thing up on the trailer, it's massive," Miller said.
Miller spends a lot of her down time, at home and in the truck, crocheting. She crochets blankets, bookmarks, doilies and more. She enjoys crocheting different projects for people and gives away what she makes as gifts.
Her favorite project to date is a large bed topper that took her four years and nearly six miles of thread to make. There are 400 yards on a ball of thread and she used tiny stitches.
"That is my most prized project. It took me the longest to make," Miller said.