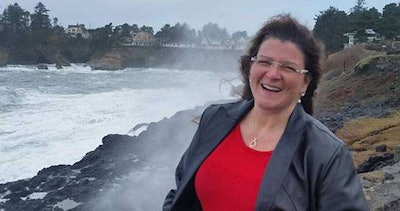 Owner-operator Shannon Blom knows how hard it can be for truckers to find a good, nutritional meal while on the road. So she's manufacturing a new line of dehydrated meals.
Five years ago, Shannon was pushing 345 pounds. She was on a regimen of medications and she knew something needed to change. She started working with a nutritionist and changing her eating habits. As she learned more about nutrition she also learned about modified ingredients and preservatives.
"The more I learned about preservatives the madder I got," Shannon, from Wildwood, Georgia, said.
She overhauled her eating habits and cut out all preservatives. Shannon now eats only organic, non-modified foods. She now cooks all of her meals in the truck, and says there's nothing she can make at home that she can't make in the truck.
Shannon has lost 169 pounds and no longer requires medications.
"I feel like there's nothing I can't do. I put in 16-18 hours a day. I get tired because I'm 55 but it's a good tired," Shannon said.
Her journey to healthier living also inspired her to manufacture a line of food for others. She and her husband, Larry, own and operate Uncle Lar's Outpost, where they sell their own dehydrated meals and many other products. They offer allergy-friendly and gluten-free options. The meals rehydrate quickly and can feed five to seven people.
They use the packaging as their preservatives, Blom says, and their meals have an extended shelf life. She chose to dehydrate the food, as opposed to freeze-drying them, because it has a better texture.
"I'm a texture person. If I eat a noodle, it has to feel and taste like a noodle. We went with dehydrated because it rehydrates really nicely," Shannon said.
And, their business has taken off. The Bloms have an e-commerce site and a brick and mortar store in Trenton, Georgia. They were recently nominated by the Dade County Chamber of Commerce as the small business of the year. Shannon attributes their success to their experience hauling reefer across the country and working with people in the food industry.
"It just seemed like one thing kept leading to another and we just kept learning stuff as we went across the country. It's kind of all the unique things that we've learned and the trades, people and contacts in the food industry that we've met. It's developed into this," Shannon said.
They are adding on to their store and will soon manufacture their products entirely by themselves, as opposed to partnering with a co-packer. For Shannon, the best part of this journey has been seeing her customers enjoying her products.
Their brick and mortar store carries non-dairy, no soy ice cream and their facility is peanut-free. The ice cream has no antibiotics or hormones in it. Because of this, Shannon was recently able to provide ice cream to some children who hadn't been able to have it before in a store setting.
"We had four kids in nine days that came in and were so excited because they had ice cream for the very first time in an ice cream parlor with their family," Shannon said. "It was a huge deal."
For Shannon, it all circles back around to trucking.
"Trucking made that possible. We found a lot of that stuff from the roads traveled. It just kind of folds together," Shannon said. "That's why I say I don't think people really have a clue how our lives are integrated together. All of us are a part of transportation, you just don't realize how much."
The Bloms split their time between trucking and running their manufacturing business. They drive a 2014 Volvo 780. All of their operations can be handled from the truck. While Shannon does plan to focus more on the manufacturing business within the next few years, because of the implementation of ELDs, she says trucking will always be a part of her life.
"I don't think we'll ever be out of moving freight across the country, it'll just be a different type. Right now we do specialized logistic reefer trailers and we may end up doing some type of expo shows and things like that," Shannon said.