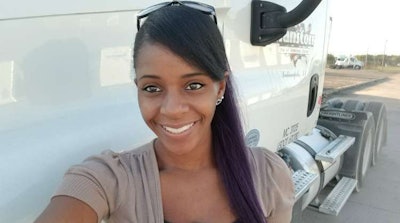 A young woman from Davenport, Florida is one of three Road Warriors honored by Pilot Flying J this week.
Desiree Ridley was the third place finisher, winning $2,500 in the annual contest sponsored by the travel center company.
A statement from Pilot Fling J said, "Ridley, a long haul driver who joined the professional driving community when she turned 21, is an advocate of millennial women breaking barriers in the professional driving industry. Throughout her recent pregnancy, Ridley continued to show dedication and passion for her job, driving until she was eight-and-a-half months pregnant. Even as a new mother, she continues to drive (now locally) six days a week while caring for her family. No matter what comes her way, Ridley handles it with strength and finesse—on and off the road."
The grand prize winner was Mike Sheeds, who won $10,000. Pilot Flying J said of him, "A professional driver of more than 27 years, Sheeds has over 3.5 million safe driving miles under his belt. Sheeds has trained more than 300 students throughout his career, teaching the importance of safety above all else. His awards and accolades speak to his achievements on the road, but pale in comparison to his dedication to his family. Sheeds and his wife have four adopted daughters, each born drug and/or alcohol exposed and surviving trauma, abuse and neglect. While driving can be a demanding career, Sheeds always prioritizes spending time with family and advocating for his children."
Second place winner of $5,000 was Terry Lee. Pilot Flying J said if him, "Lee began his professional driving career 34 years ago while serving in the army in the Middle East. Lee has overcome many adversities throughout his life including rebuilding his family's home after losing it to a flood and being diagnosed with chronic lymphocytic leukemia stage two blood cancer. None of these hardships hindered his dedication to driving, and he is still on the road today making his family proud."
Pilot Flying J said it received nearly 5,000 submissions from professional drivers and their loved ones from across the country.
"This year's Road Warrior winners are inspiring and exceptional representations of the professional driver community," said 
Ken Parent
, president of Pilot Flying J. "These unsung heroes are on the road day in and day out to provide our country with the goods that make daily life possible. The Road Warrior program is our way of thanking professional drivers."