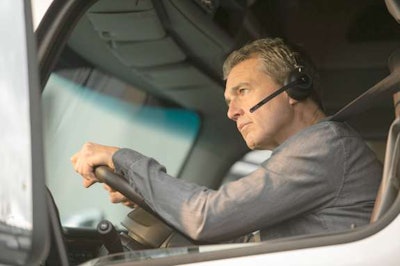 RoadPro family of brands introduced a line of Bluetooth headsets and mobile tech accessories from RoadKing at the recent Mid-America Trucking Show in Louisville, Kentucky.
This new line of headsets features noise-canceling technology that reduces ambient noise levels and improves the listening experience for the driver. With cutting-edge Bluetooth wireless technology, they pair to any Bluetooth enabled device to provide full wireless freedom with up to 66 feet of operating range. The ultra-soft, large protein leather earpads provide all day on-the-go comfort and up to 40 hours of talk time.
Along with the new headsets RoadPro also rolled out heavy duty chargers and charge and sync cables that are Lightning compatible and feature heavy-duty metal connectors with a 6-foot reflective nylon braided cord.
Showgoers also had the opportunity to see two new oversized, industrial phone cases. They come in two different mounts and will all types of mobile phones. With a moulded rubber carbon weave and nylon construction, they have a stainless-steel rotating Sure-Lock clip system and a scratch-free microfiber interior lining.
The new products will be available in travel centers starting in April.