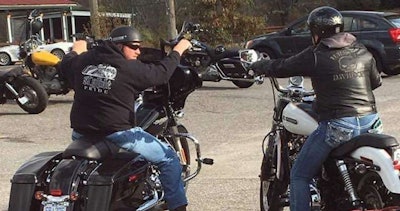 For company driver Shannon Parsons, trucking is all about seeing the country and meeting people. Hauling household goods and similar freight lets her do plenty of both.
Shannon got her CDL in 2011 and drives team with her husband, Ross. She started out riding along as a passenger, and was inspired to get her own license.
The Parsons drive for North Carolina-based fleet Tru-Pak Moving Systems, a family-owned company. They haul trade shows, military moves, exercise equipment and other household goods. They pull a dry van trailer and don't have to touch most of their freight.
"You get to see a lot of stuff. You get to go a lot of places. Plus, you know you're helping people out by moving stuff from place to place for them," Shannon said.
Shannon warns would-be truck drivers that it's a demanding, but rewarding, job. You mainly have to watch out for everybody else out on the road, she says, and just be patient. She recommends taking the time to learn as much as you can before you dive into the industry.
"Some other things that I would tell someone wanting to become a truck driver is don't go into the career thinking that it is an easy job because it does take a lot of hard work and determination," Shannon said.
Even though trucking can be challenging, Shannon would still encourage other women to pursue driving careers.
"If it's really what she wants to do, I would tell her to go for it because it is a good industry. You do learn a lot," Shannon said.
When she has some home time Shannon enjoys different types of transportation, specifically horseback riding — they own three Tennessee Walkers — and riding her motorcycle. They own three Tennessee Walkers.
"It gives you a piece of mind when you're out there on the horse. You don't have any worries," Shannon said.